Most mornings, I am up before the sun is. As coffee is brewing and lists are being made, I remember I have a playdate scheduled at a local coffeeshop that is kid-friendly. The mom I am hanging out with is a good friend of mine, even so, my mood seems to match what I am wearing, so I decided to skip the t-shirt and jeans, opting for something more colorful.
If I look fabulous, I tend to feel more fabulous.
I have about fifteen minutes of time to pick out what I'm going to wear, assemble it, and put on makeup. This is no small feat for moms of little ones, so my choices must be swift and on point. I have adopted a few easy principles to assist me in this process.
Know Your Body Type
One of the most important aspects to dressing well (and shopping well) is knowing your body type. You want to flatter whatever your figure is, and achieve balance with the clothes you choose. I have more of a curvy, hourglass shape, so dresses that are more "shift-like" or pants that are more straight-leg, don't work as well for me.
Not sure what you are? Here is an awesome article explaining all the different types and referencing celebrities who are those types. See what they wear, and emulate.
Experiment with different looks in the dressing room–trying on clothes is free.
Basics Don't Have to Be Boring
I always have a few basics that go with everything. Two of my favorites are the black skinny jean (high-waisted), the black (or white) tank top, printed shorts, and the simple, grey (or black) dress. I wear the same pants multiple times a week, just styled differently. I do not buy items of clothing that only work styled one way, or with that one blouse you have that is kind of uncomfortable. Versatility is my best friend. I also have a few tees that are fancier than normal so if I am wanting the comfort of a t-shirt, but don't want to go full on college social club shirt, I have a happy medium.
In general, think outside the box when it comes to basics. Just because it is a basic white tee, doesn't mean it can't have ruffles around the sleeves, and just because it is a cotton pair of shorts doesn't mean it can't be purple or floral print (smaller prints can be very versatile).
Basics also give you the opportunity to play around more with accessories, making them more of the focal point of your ensemble. As always, Noonday Collection is where I get the majority of my basic as well as statement jewelry. Here is a link to one of my current faves, the Luna Studs, handmade in India out of sterling silver and moonstone. I wear these almost everyday, because they literally go with everything but are still unique and lovely.
Experiment with Texture
I love mixing textures, even if they are the same color. Chunky, knit sweater over leather pants is super cool. Corduroy skinnies with a linen top? Yes, Please! I almost see it as a challenge.
Here is a great example I found on the internet: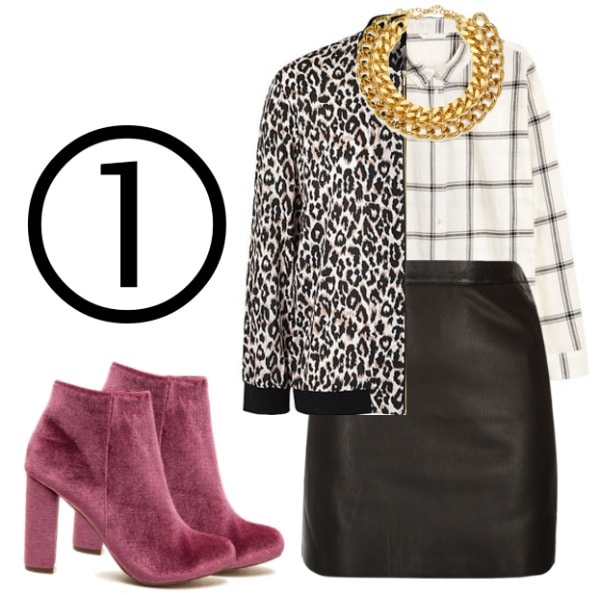 The Day Dress is Your Friend
Call me a 1950's housewife, but day dresses are seriously my favorite. A dress is instant, effortless cute. You don't even have to think about what to wear with it; it already is. I have a wide range of styles, from simple solids to colorful patterns, but all of them give me decent "up top" coverage so I don't shock my toddlers.
I try to find dresses that are a breathable fabric, such as 100% cotton or linen, and knee-length. Hemlines higher than knee-length fall more under the cocktail dress category in my book.
Throw on a pair of cute sandals or flats, and you are playdate, coffee-date, grocery shopping, day-off, lunch with the girls, work from home, ready.
LOOK! She's GARDENING:
Photo by Tracey Hocking on Unsplash
Expose Tastefully
A wise woman once told me that you have two choices when it comes to skin exposure: legs or décolleté. This also applies to front or back (daring neckline or exposed back), though this is usually in the case of evening gowns. Exposing both can read "trashy," which, as a mom, I particularly want to avoid.
IMHO there is nothing sexier than a well-sculpted back, but when paired with cleavage, all elegance leaves the building.
The ever-lovely, Emma Watson:
For my readers living in tropical places, different rules apply. It's hot. Sweat management is real–do what you gotta do.
Final Remarks
Overall, I am a "less is more" kind of person. I try to say as much as possible, with as little as possible. I want my basics to stand out, and I want my accessories to be noticeable (not drowning amidst fashion noise). Over the coming weeks I will be going into more specifics regarding color matching, accessorizing, and shopping well on a small budget. I have some GOOD STUFF coming your way, so get excited.
What are some of your styling hacks?
*Cover Photo by Makhmutova Dina on Unsplash