Imagine being invited into the finishing touches of a Frank Lloyd Wright house. Or being asked by Leonardo DaVinci, which hue of rouge should be applied to the cheeks of the Mona Lisa painting. Or having Dame Anna Wintour call you up to consult your opinion on what edits to make in the upcoming edition of Vogue Magazine?
You are a piece of art; a living, breathing embodiment of love taking on flesh.
Take a moment to let that sink in. You matter, dear friend, because you were designed. God thought you up before you were born, placing you in the right now of the world for a beautiful purpose you will spend the rest of your life unfolding.
That excites me, and I hope it excites you. It adds a pep to my step, and gives me a good reason to love myself, and to love what I put on myself.
In part I of this fashion series, we went over the basics of body type, wardrobe, and approaching both with an eye for balance. The same eye applies to accessorizing, although here is where I like to fully embrace the unexpected and dabble in the outlandish. I think accessories are something that should stand out against the clothes you have on, like little splashes of intrigue.
Here are a few considerations to take under, while choosing accessories.
Contrast (texture, color, pattern)
When deciding how you want to contrast your outfit, remember to be seeking out balance. We don't want to overload our choices with too much of one thing. Keep in mind your body type, and choose where you want to draw the most attention. Is your cozy sweater the focal point? Are your statement earrings the focal point? Is your textured clutch the focal point?
Create a look, but learn how to edit. We don't need to be wearing ALL of the awesome things ALL at the same time (unless you're Iris Apfel).
*no copyright infringement is intended*
If I am wearing more subdued colors, I like louder accents. If I am wearing a black tank top and olive green chinos, I would perhaps grab leopard print flats, metallic jewelry, and a bright, red purse.
Match the Colors that aren't There
I find color matching to be one of the most exciting challenges! I remember scrutinizing outfits in front of the bedroom mirror in high school, wondering how to make them more unique. I didn't want to blend into the crowd. I loved accenting with unexpected colors and began to question what made certain colors amenable to each other? I began pulling different tops and dresses out of my closet and asking myself what is the wildest color I could make match and why would it work?
I began to notice that all colors are comprised of multiple colors. I had to figure out which colors carried what other shades, and then match the colors that aren't there.
For example, in the picture below we have a gorgeous maroon, velvet jacket, smartly paired with skinny jeans, black heels, and an ivory top. But what stands out the most to me, is the sky blue framing her face, and the soft, blush billowed about her neck. Unexpected, yet beautiful. If you take a hard look at each color, you will notice that blush is hidden in all of them, therefore becoming gate accent color that isn't there…make sense?
*no copyright infringement is intended*
Here is another example I like, although it is for decorating a living room. We are decorating ourselves though, aren't we? I just love the way all the colors are speaking to each other here, collaborating and conspiring to be more than they could ever be on their own. That is the point of color matching; to create texture and emotion, much like one composes a symphony.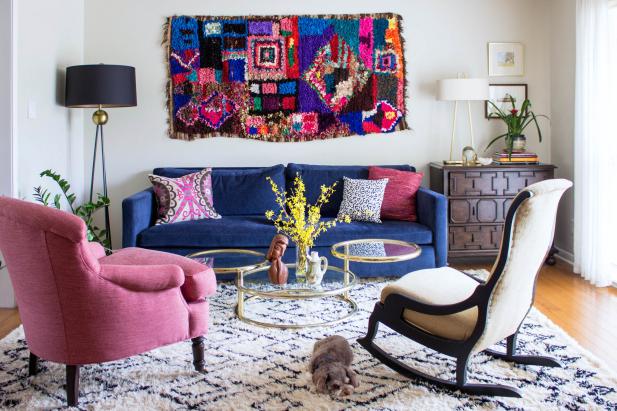 *no copyright infringement is intended*
Add a Touch of the Unexpected
One of my favorite necklaces in college was a hand me down costume piece from my great – aunt. Plucked straight out of the glory days of 1985, it was a plastic, southwestern collection of cactus, burro, and sombrero figurines in dusty magenta, faded purple, and desert green.
I loved it.
I went to college up north at Anderson University and enjoyed paying homage to my southwestern roots. No, I didn't ride a horse to school, as some of my classmates literally inquired of my upbringing, but I loved incorporating a little spiciness, sometimes silly, sometimes sexy, into my outfits. They were little touches of the unexpected.
For example, I paired the sombrero necklace I just mentioned above, with a tailored white blouse, bright red lipstick, form fitting high-waisted black trousers (think Audrey Hepburn in Funny Face), and brown leather hand-tooled cowgirl boots by Dan Post. My clothes were very classic, like chic jockey, with a touch of golden age Hollywood and Mexican glam.
*no copyright infringement is intended*
Tell a Story
Ultimately you want your clothes to reveal something important– about you, about what you believe, about what your interests are, about where you came from, about where you want to go. As you wear pieces over and over, you begin to develop a special history for each thing. Fashion carries a voice. It's a compelling and fun way to carve out your space here. No one else has your voice. No one else has your memories and dreams.
You are a walking piece of history, and an exciting peak into the future.
Now the floral dress you grab for your sister's bridal shower, has memories of bargaining in the street markets of Zambia, Africa attached to it.
Now the mint, cotton shorts you grab for your weekend at the beach, has memories of house hunting in the Caribbean attached to them.
Now the red, patent-leather heels you grab for your opera audition, carries the memory of shaking your future husband's hand for the first time at a dinner party years ago…
Or maybe it's just me.
Write your own fashion stories, and tell me all about them. What are some of your favorite pieces, and what are the memories attached to them?
*no copyright infringement is intended*
*Featured Image by Zeny Rosalina on Unsplash